I woke up this morning to find a comment on one of my posts in which the commenter stated, "I saw you on ucreate and I'm now your newest follower!" At first I was a bit confused, so I headed over to ucreatewithkids.blogspot.com. There I found that my blog and I were being featured. I was so excited!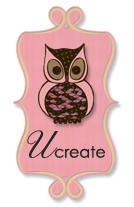 The blogging world amazes me! I've been blogging for only a month and half, and I have met so many amazing people and visited the most wonderful blogs. How did I get by before without blogging?!


If you have never been to ucreate or ucreate with kids you must head over there ASAP! They have so many amazing DIY projects for yourself, your home, and your children! Check it out!!!