My Blog has undergone a major makeover! When I first started my blog in May, I was so anxious to get it going that I didn't put much thought into a name or design. I settled with Mrs. Rojas' Teaching Resources until I could think of something better. I also wanted to see what direction my blog took before giving it a proper title. I thought about what my blog does for me and what it does for others.
My blog is a place where I SHARE resources that I CREATE to use as I TEACH. So, that's how my new name came to be…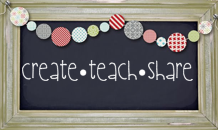 If you are already a follower, I would love it if you could update you blog roll with my new name!
Also, if you already have my button on your blog, I would truly appreciate it if you could replace it with my new one!
If you are not a follower already, Welcome and Enjoy!