I have been such an unfaithful blogger. It has been 8+ months since my last blog post. Life has been very busy for the Rojas family. When I first started my blog, I was at home with a brand new baby girl, who slept most of the day. That gave me plenty of time to create and share while the hubby and big sis were off at school. Somehow that sleeping infant turned into a crawling, walking, running, climbing toddler, who gets into everything!!! Add to that going back to work full time, being a wife and a mommy to 2, and trying to buy, decorate, and create a brand new home. Now, when I finally find a quiet moment alone…I sleep.
Luckily during all of that time, I had an amazing school year! I had the best group of students who were hard working and eager to learn. Plus, I had an amazing grade-level partner. We put together a wonderful fourth grade program that I am very proud of.
Once again, I am on a mission to find and create new resources for the upcoming school year. Of course pinterest has been my ultimate inspiration.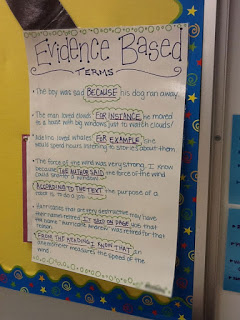 Reading responses were a big part of our language arts program this year. However, I wish I would have spent more time emphasizing the need for EVIDENCE in my students' responses. Next year I plan to create a similar chart. I would also like my students to have a reference sheet in their language arts notebooks and/or homework folders to refer to when writing their responses. With permission from
Polka Dots and Teaching Tots
, I created the following: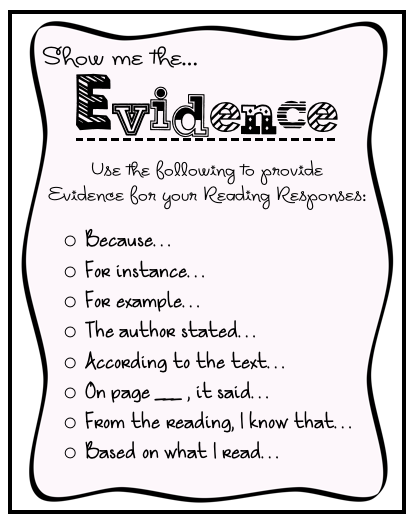 Click the pic to share!