For a long time, I have been thinking about ways to further encourage my students' independent reading. I want them to take ownership and pride in their reading– set goals, celebrate accomplishments, and most of all, enjoy reading!
In my dream world, my classroom would be a place where my students would simply read for the enjoyment of reading. However, in the real world, lessons need to be taught, tests need to be taken, and grades need to be given.
MY CHALLENGE: How can my students enjoy reading, while still being held accountable for what they read, understand, and learn.?
Portfolios are a place where individuals can showcase their learning, experience, and above all, things that they are proud of. So, over the past few months I have been creating a Reading Portfolio for my students to use to showcase their reading….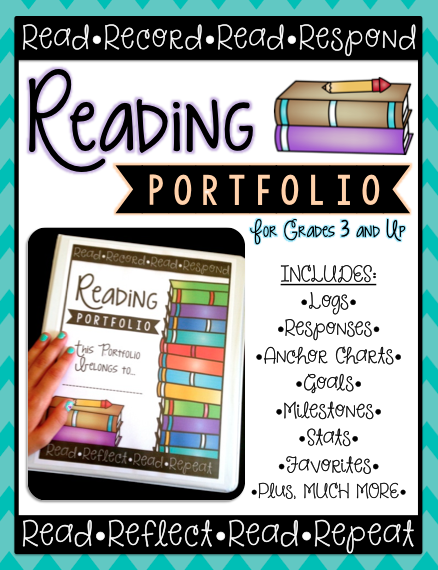 This
Reading Portfolio
is divided into 4 parts, and for the sake of not overwhelming (because there IS a lot), I wanted to share one part at a time. My favorite part of this Reading Portfolio are the Logs & Stats pages….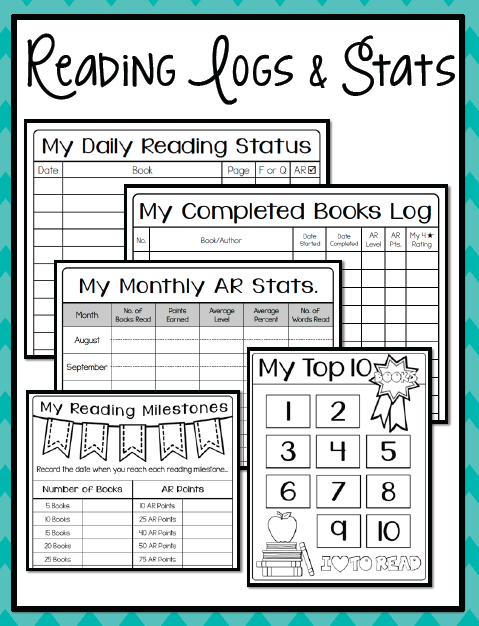 These logs and stats pages are a place where students can set goals, reflect on their reading habits, and track their progress. Here are a sample of some of those pages…
My Reading Goals is a place

where students record their reading goals for the month, quarter, trimester, semester, or any other given period of time. Students can modify or create new goals throughout the year.

My Reading Stamina

is

chart to be completed at the beginning of the school year, as students build their reading stamina. This allows them to track their growth over the first weeks of school.
My Daily Reading Status is where students will track their own reading each day. It's a student version of "Status of the Class". While I will still do "Status of the Class" each day, I wanted my students to have a place to track their own reading.
My Completed Books Log is where students will keep track of books they complete.
My Monthly AR Stats:

At the end of each month, students should visit their AR account to record the number of books they read, points earned, average levels and scores, and number of words read. This page can be completed, comparing month to month, or students can also keep a cumulative record.

My Reading Milestones: This is a place where students can record and celebrate the different reading milestones that they hit for the number of books read and AR points earned! CLICK HERE FOR THIS FREEBIE!
My Reading Wish List

is where students keep a list of books they would like to read throughout the year.

My Top Ten: where students can

rank their top 10 favorite books. This version can be used with post-its throughout the year, that can be moved as their rankings change
For more details on my Reading Portfolios, visit my
TpT page
. Check out the preview to read the Teacher's Guide and to see what else is included. Also, come back tomorrow for more information on Part 2: Reading Anchor Charts!