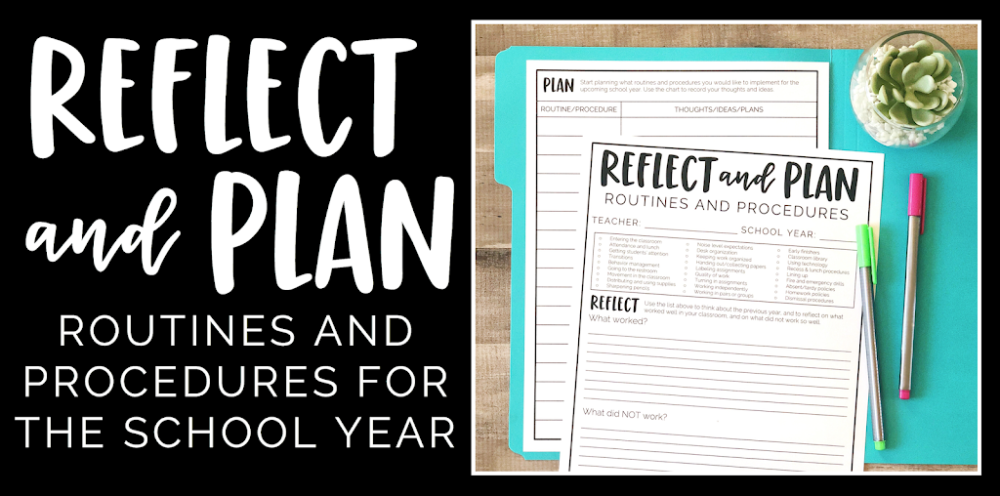 One of my favorite things about teaching is that every year is a fresh start. Whether you are new to teaching, or someone who has been teaching for many years, we all can admit that we have plenty of room to grow. After 13 years of teaching, I am still making changes each year in how I run my classroom. Summer is the perfect time to reflect on the previous school year and to plan and make changes for the next.
Every year I spend a lot of time in those first weeks of school establishing routines and procedures. I set aside a great deal of time to teach, practice, and reinforce them. Doing so sets the foundation for a smooth and productive school year. With that being said, it is important to go into each year with a solid plan. You should definitely know what those routines and procedures will be before students step foot in your classroom.

For this upcoming school year, I created a reflection and planning guide for teachers to use to start thinking about the different routines and procedures they would like to use in their classrooms. I encourage you to download and print this FREE guide to help you start thinking about the new school year.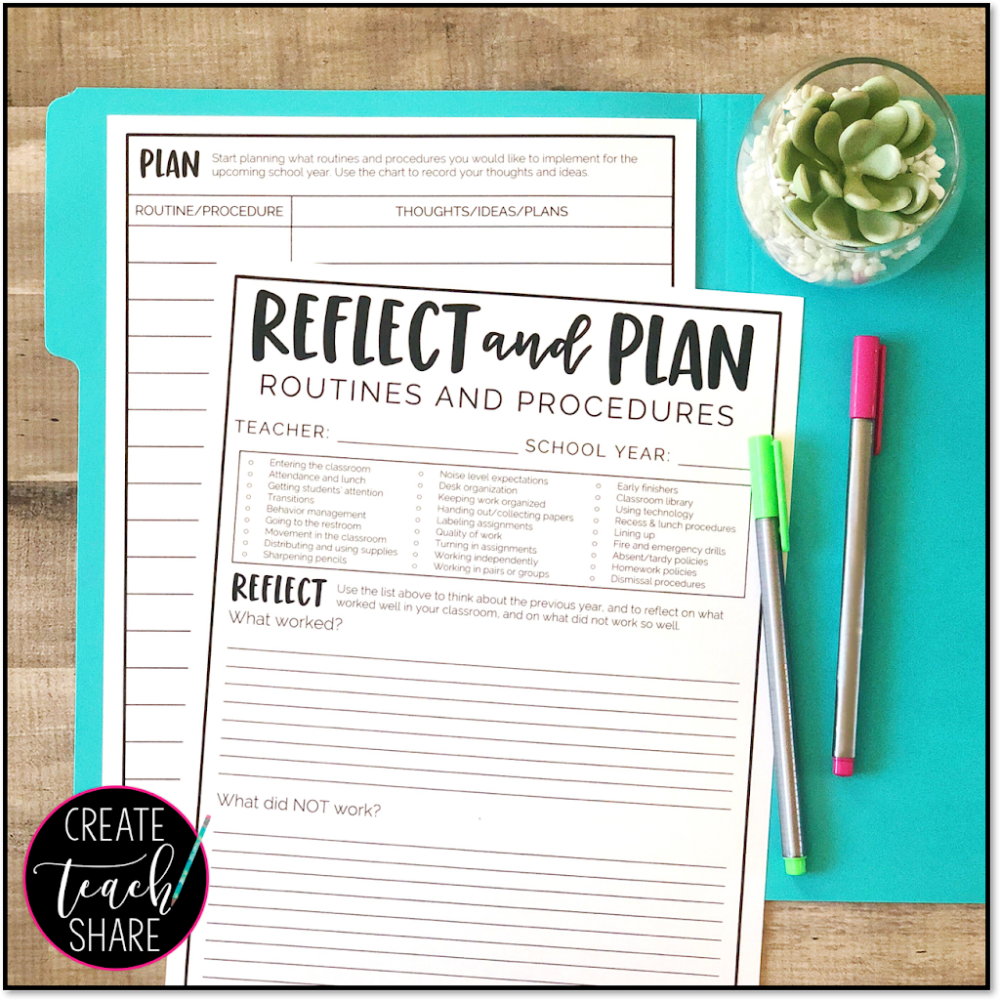 This guide starts with two questions that encourage you to reflect on the previous school year:
What worked?
Start by thinking about all of the things that worked in your classroom during the previous year. This is a great place to start because if something worked well for you, then it's definitely worth giving it a try next year as well. In the guide I provide a list of routines and procedures to consider as you're reflecting. You might realize that you were really successful in getting students to follow your morning routines, or that they followed directions well during dismissal time. If certain areas were a success for you, then you know that these routines and procedures do not need much tweaking, if any at all.
What did NOT work?
Next start to think about the routines and procedures in your classroom that might not have gone as well. Maybe your students had difficulty with transitions, or you felt you were ineffective in getting their attention when needed. These might be areas that you want to revisit for the upcoming school year. Again, refer to the list of routines and procedures to think about and reflect on those areas that you felt could have been better this past year.
Brainstorm and Collaborate
Once you have identified the areas of classroom management that you want to change or modify, start searching for new ideas. Reach out to colleagues and ask them about strategies that have worked for them in their classrooms. You can also search Pinterest for new ideas. Teacher bloggers are always posting and sharing ideas for how they handle different routines and procedures with their own students. You might also want to join some Facebook teacher groups to seek ideas from other teachers in your same grade level. There are so many amazing groups out there, where you can pose questions and share in the expertise of teachers from all over the country.
Start Planning
When you are ready, take some time to complete the "PLAN" section of the planning guide. Start writing down your thoughts, ideas, and plans for the upcoming school year. It is so important to have a strong plan in place before those first days of school so that you know what expectations to set.
The First Week of School
During the first weeks of school, be sure to explicitly teach your routines and procedures. Model expectations for students and discuss what each procedure looks and sounds like. Also be sure to discuss what procedures should NOT look and sound like! Have students practice routines and procedures every chance you get, and provide tons of feedback and positive reinforcement. Once you get your routines and procedures established, you are ready for a smooth sailing school year!!
Be sure to download this FREE guide for planning your routines and procedures for the upcoming year.  Click HERE or on the pic below to download!!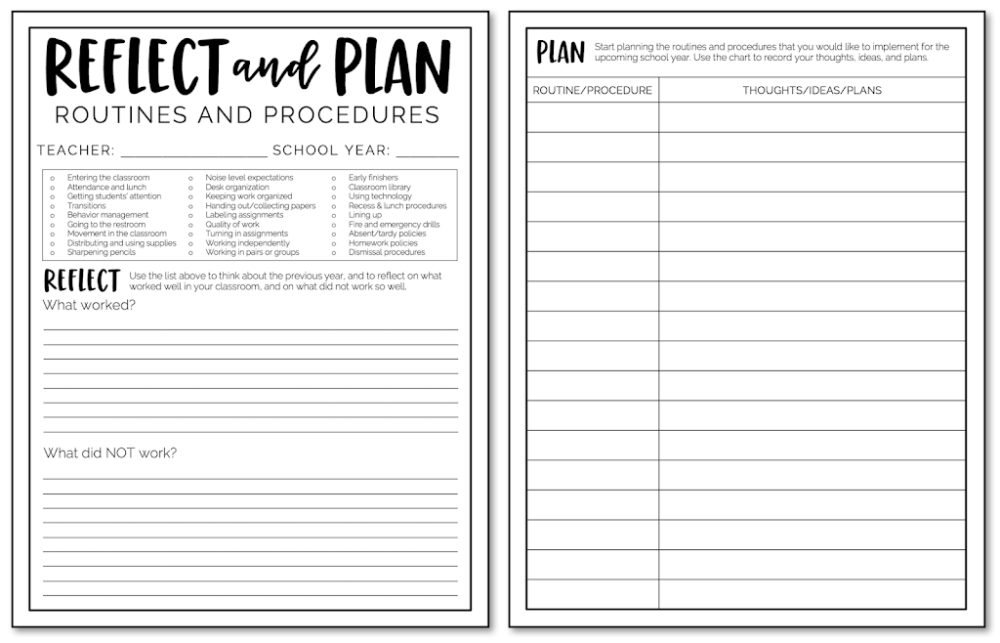 If you're looking for Back to School activities to help ease you into the next school year, be sure to check out my Back to School pack in my teacher shop!!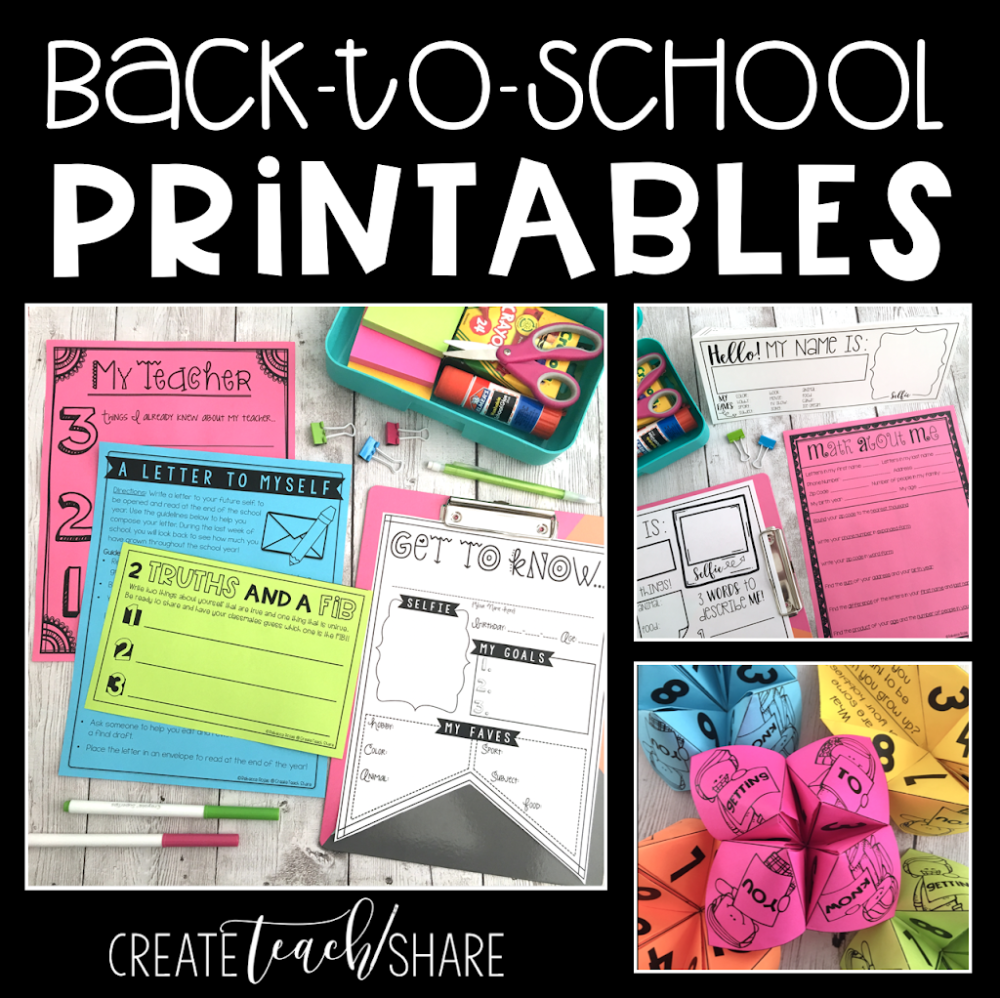 Happy Back-to-School Planning!!