The TpT Cyber Sale starts today!! So, I thought I would share some of my favorite resources!! Use the numbers to learn more about each one below!! Everything in my shop will be 25% off for the next two days, Monday, Nov. 26th & Tuesday, Nov. 27th!! Use the code: CYBER18 at checkout!!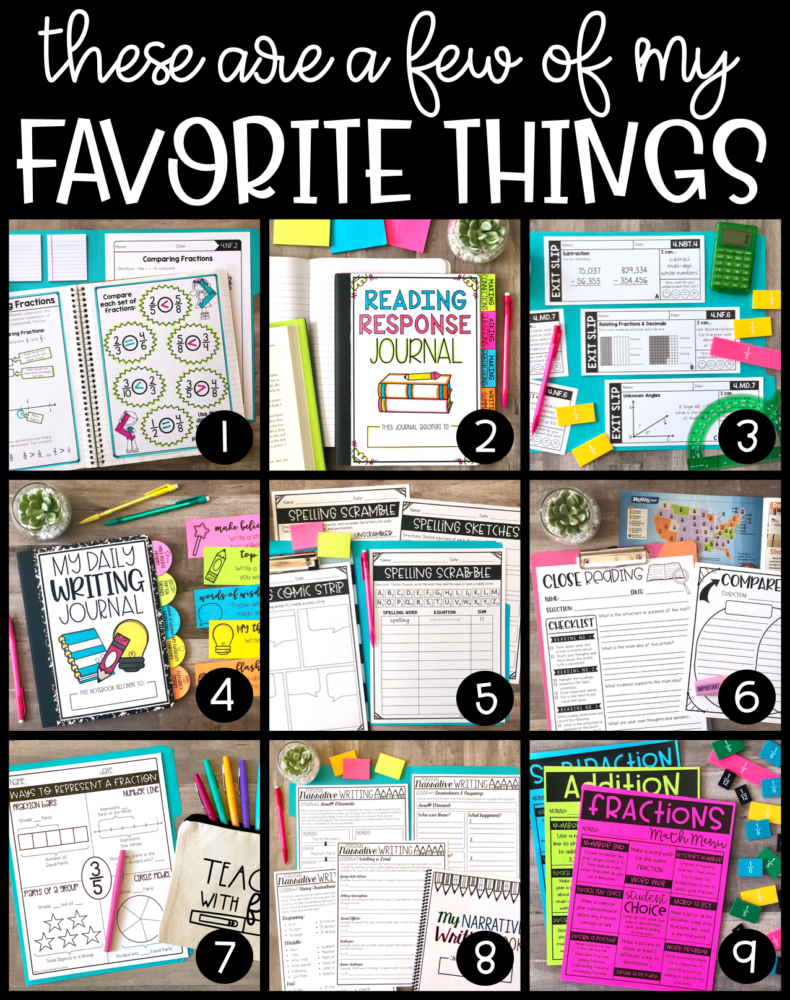 Interactive math notebooks are teaching pages used to introduce and teach new math concepts and skills. Each set of notebook pages includes definitions, explanations, rules, and/or algorithms that may be needed to address each standard. Sample and practice problems are also included to be used for guided practice. Once completed, these notebook pages serve as anchor charts for students to refer back to as a reference tool throughout the year. Interactive Math Notebooks are available for 2nd to 5th grade. Click HERE to take a closer look.
Reading Response Journals are the perfect place for students to respond to novels that are either read aloud in the classroom or read independently. This Reading Response Journal covers 10 different reading skills and strategies. There is a Divider Tab for each skill or strategy, each with a built in Anchor Chart. This resource also includes Mini Lessons to introduce each skill or strategy. These journals were designed for use with Literature Texts and intended for Upper Elementary Classrooms. Click HERE to take a closer look.
Math Exit Slips are perfect for checking for understanding and assessing student progress with new concepts and skills. They are quick and easy to prep, assign, and grade. They cover all of the common core standards and there are three slips for each math concept or skill. These Math Exit Slips are available for 2nd to 5th grade. Click HERE to take a closer look.
This product includes 40 weeks of Writing Prompts (with a total of 200 prompts). Each day of the week is a different theme:
– Make-Believe Monday: Provides students with a start for writing a narrative.
– Top 10 Tuesday: Provides students a topic for writing a Top 10 list.
– Words of Wisdom Wednesday: Provides students with a famous quote to respond to.
– My Thoughts Thursday: Asks students to share their thoughts/opinions on a given topic.
– Flashback Friday: Asks students to share about a past memory or experience.
This resource has different options for writing journals and/or google classroom. Click HERE to take a closer look.
This resource includes spelling pages to use with any spelling list. It's perfect for word work and homework. These resource includes 25 activities that are easy-to-prep, FUN for students, and provide additional practice for studying spelling words each week! Click HERE to take a closer look.
This resource for exploring non-fiction was originally designed to be used with classroom magazines, such as Scholastic News and Time For Kids. However, over the years I found that these activities work great with just about ANY non-fiction text. This Non-Fiction Toolkit includes activities for teaching text features and text structures, and includes a variety of graphic organizers to use with non-fiction texts.  Click HERE to take a closer look.
This resource is my ABSOLUTE FAVORITE!! It saved me when teaching fractions in 4th grade and includes EVERYTHING YOU NEED!! This resource was designed to help teachers supplement their math curriculum, by providing a variety of options to teach, reinforce, practice, and assess students' understanding of fractions. These fraction pages were designed with 4th grade standards in mind. However, they would also work great in 3rd grade to challenge students and introduce them to more advanced skills. These pages can also be used as a review for 5th graders, to help prepare them for the 5th grade fractions standards. Click HERE to take a closer look.
Writing used to be the most challenging subject for me to teach. I finally took the time to create comprehensive units that would make teaching and learning how to write so much easier for my students and me. My Writing  Bundle is collection of 3 writing units, each designed to teach students about different genres of writing. The genres include Personal Narrative, Opinion Writing, and Informative Writing. These units walk students through the process of writing compositions for each of these genres. Click HERE to take a closer look.
Math Menus provide students with a menu of engaging activities related to the different math concepts and skills they are learning. They are meant to be used independently for Early Finishers, Homework, Center Work, or any way you see fit!! Math Menus are available for 2nd to 5th grade. Click HERE to take a closer look.
These are just some of the many math and language arts resources that can be found in my TpT SHOP. Be sure to pick up your favorites during the Cyber Sale. Don't forget to use the promo code, CYBER18 at checkout!!
Happy Shopping!!