It seems like every conversation I overhear students having starts with, "Would you rather…"! I remember having these same conversations with my friends when I was in school!! So, why not use conversations that students are already having, and apply them to critical thinking, opinion writing, and collaborative discussions!!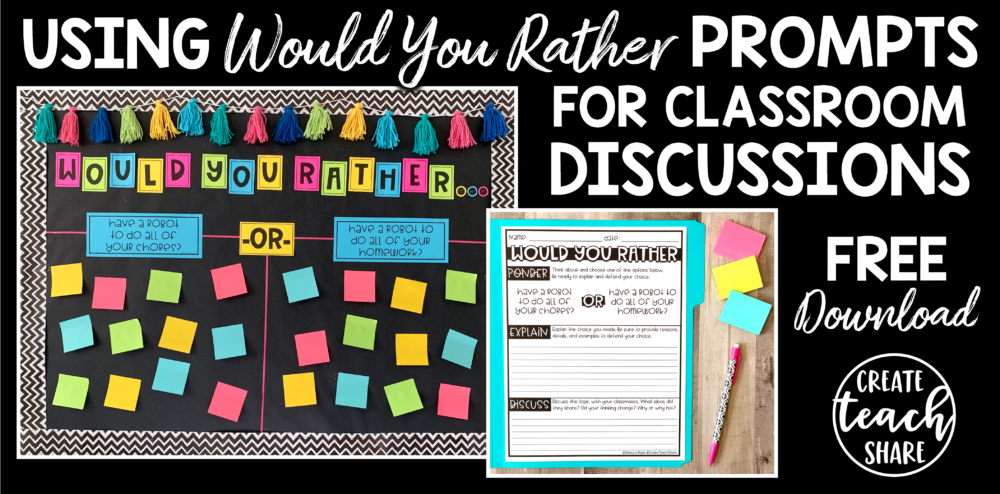 [Disclaimer: The pictures throughout this post feature printables from my Would You Rather resource. However, you can also come up with your own Would You Rather prompts and use the same strategies that I share throughout this post. At the end of the post, I share a FREE SAMPLE (one printable student page, one digital student page, and one printable prompt to use on a bulletin board or anchor chart).]
Would You Rather prompts can be used in a variety of ways. Here are the different steps I suggest when using these prompts in the classroom:
Ponder
First, I would start by giving students time to really think about the topic. Most of the conversations I hear students have include a lot of "ifs" and "buts". The other night at dinner, my family discussed the prompt: "Would you rather only be able to eat your favorite dessert for the rest of your life, or never be able to eat it again?" My youngest daughter kept wanting to make changes to the prompt because she just couldn't decide. Make sure that you let students know they are only able to choose one answer, with no stipulations! You may want to encourage them to jot down notes on post-its before making a final decision.
Explain
Next, ask students to explain their reasoning and why they chose their response. Ask them to be specific with their reasons and to cite examples as needed. Tell them to be ready to DEFEND their response during small group and class discussions. This is where elements of opinion and persuasive writing really come in handy.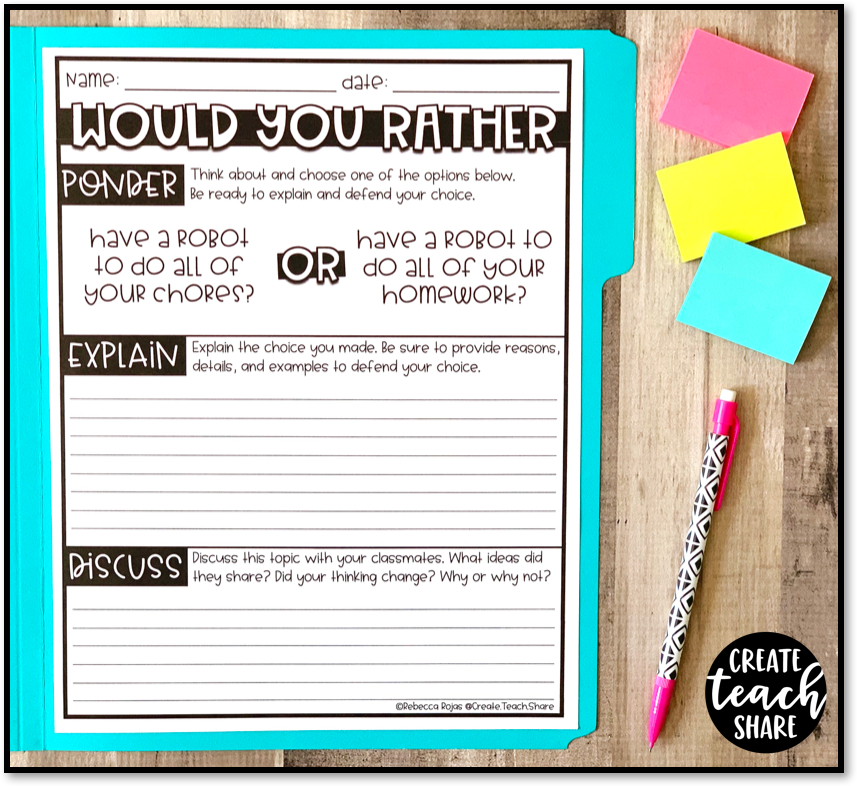 Discuss in a Small Group
After students have written their own explanations, give them some time to discuss the prompt with a small group. Have everyone take turns sharing their choices, citing their detailed reasons and examples. Encourage students to use accountable talk to agree and disagree with their classmates. Finally, have them write about their discussions. Have them reflect on what was shared and what new ideas were discussed. Students may find that after discussing with their peers that their thinking and opinions have changed.
Have a Class Discussion
To bring it all together, have a whole class discussion. Ask students to choose a FINAL response and to write their name and their reasoning down on a post-it note. Have a bulletin board ready and divided into two choices. (This could also be done on a white board, smart board, or an anchor chart). When students are ready, ask them to place their post-it note under the response they chose. When everyone has posted their responses, call on students to share their reasoning, referring to the board for a variety of responses. Again, encourage students to use accountable talk while debating the topic. You will be so surprised how much fun students will have with these prompts and how engaged they will be during their discussion!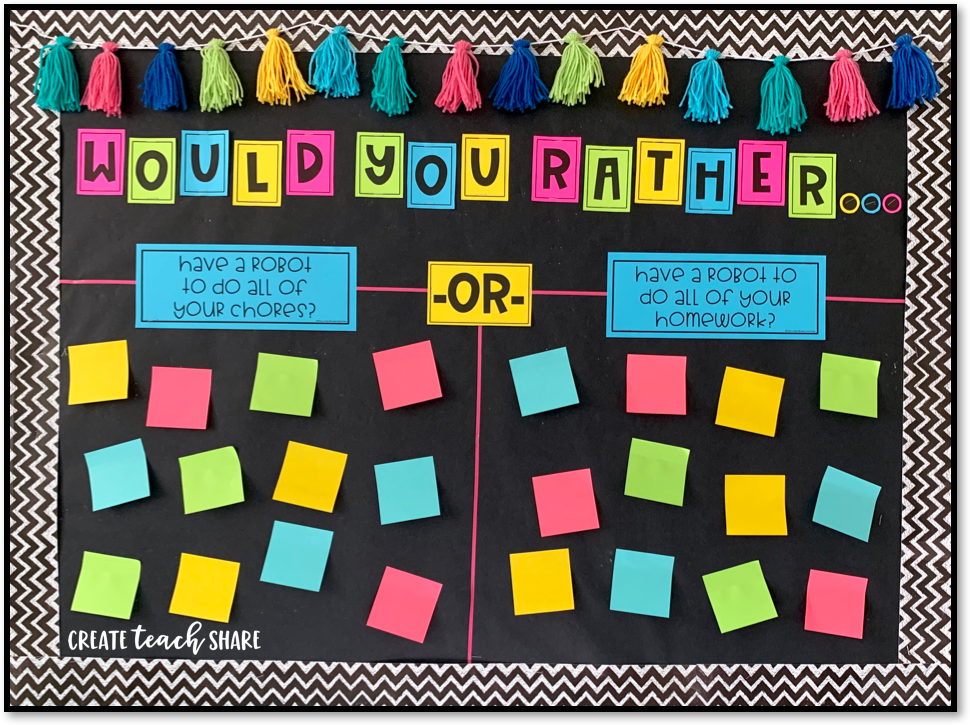 Would Your Rather prompts work great any time throughout the year. They are great for ice breakers and get-to-know-you activities at the beginning of the year. They can be used for warm ups, morning meetings, or literacy centers throughout the year. Finally, they are perfect for those final days of school, when you're trying to find fun and engaging activities that are also educational!!
Download a FREE Sample
Use the form below to download a FREE SAMPLE!! The free sample includes one printable student page, a printable option for a bulletin board or anchor chart, and access to a digital student page using google slides.

Ready to get started with Would You Rather prompts???
Click the cover pic below to take a closer look at this engaging resource. Both digital and printable student pages are available, as well as EDITABLE prompts in both formats. I also recently added the letters and prompts to use on a bulletin board or anchor chart.