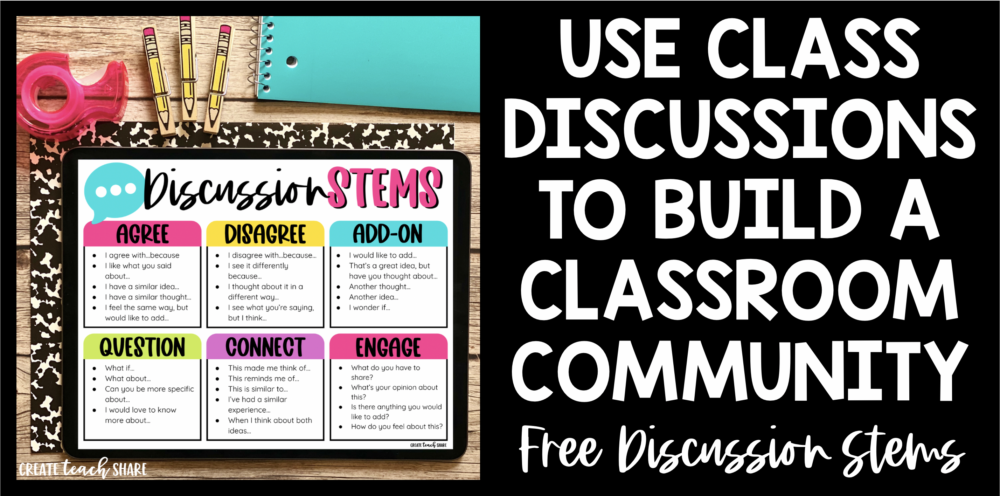 Building a classroom community is more important than ever! It hasn't been easy for students to adjust to life and learning during a pandemic. As students head back into classrooms, or even if they're still online, classroom discussions are a great way to help students feel like they belong in their classroom environments.
Ten to twenty minutes a day, is all it takes to give students time to chat and engage in meaningful discussions. Whether it's during morning meeting, or after lunch, spend a little time each day with class discussions.
How to Implement Class Discussions
Provide a discussion prompt to get the conversations started.
Give students time to think about the prompts, and to possibly jot down some ideas.
Start off by sharing in pairs or small groups. This will allow students to feel comfortable sharing, without having to share in front of the whole class.
While in pairs or small groups, encourage students to comment, ask questions, make connections, and engage with their classmates. Discussion Stems are a great way to help students keep the conversations going. In this post, I am sharing a printable and digital list of Discussion Stems. See below!
If time permits, give students time to share with the whole class. Again, use Discussion Stems to encourage meaningful discussion.
Using Discussion Stems
Use discussion stems to teach students how to respectfully agree and disagree with the thoughts, ideas, and opinions of their classmates.
Discussion prompts can also be used to keep the conversation going. Teach students how to add-on to someone else's ideas, ask questions, and make connections.
Provide students with a list of discussion stems. Click HERE to download a FREE copy of the resource below. You can copy the printable two to a page for students, or share the digital version.
Take time to teach, model, and practice using discussion stems during class discussions.
Provide feedback when you hear students using discussion stems effectively and respectfully.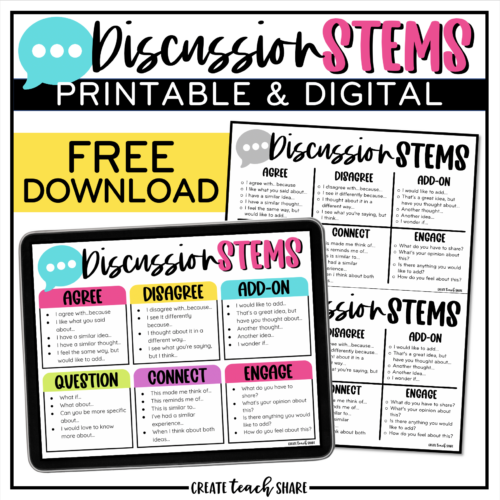 Discussion Prompts
Keep students engaged by using a variety of prompts. It's great to have lots of options to choose from.
Use prompts that are meaningful to your students and on their level.
Vary prompts from day to day. One day you might choose a prompt to promote a growth mindset, and the next you might have fun with a silly prompt.
My Discussion Slides
Encourage and practice speaking and listening skills in your classroom with over 180 engaging Discussion Slides! Choose from to add variety to your daily class discussions. There are for each category, plus blank templates to add your own prompts. These discussion prompts are perfect for bell ringers, transition times, morning meeting, or even for writing prompts. Here are the different categories that are included:
 Students share their thoughts and ideas about different picture prompts.
 Students use their imaginations to share their thoughts and ideas about hypothetical situations.
 Students share advice, ideas, thoughts, and opinions by answering a variety of questions.
 Students choose between two different situations, and share and justify their opinions.
 Students share their thoughts and ideas about different character traits.
 Students respond to a variety of quotes, and share their thoughts and ideas about what they mean.
 Students choose between two different things, and share and justify their choices.
 Students use these prompts to share a little bit about themselves.
  Student share about what they would do in a variety of social situations at school.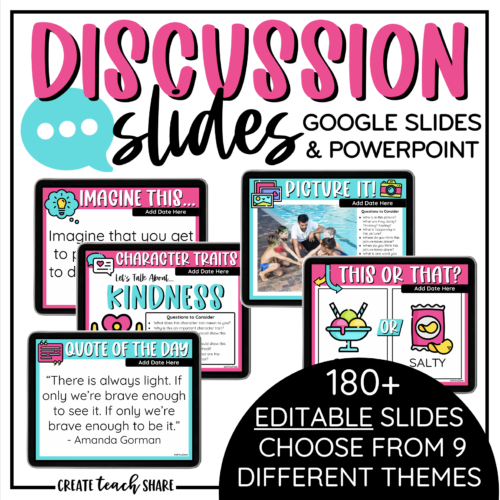 Click HERE to take a closer look at these Discussion Slides. I just know you're going to love them!
I hope that between the Discussion Stems and Discussion Slides, that you will be able to start classroom discussion with your students. You will be amazed to see how much it will impact your students and your classroom community!