World Read Aloud Day is the perfect opportunity to celebrate reading in the classroom. This day was established 14 years ago by a non-profit organization called LitWorld. According to LitWorld, this amazing day of reading was created "to celebrate the power of reading aloud to create community and amplify new stories, and to advocate for literacy as a foundational human right." As someone who has always valued the power of sharing reading with others, I was thrilled to learn that there was an entire day dedicated to reading aloud! As a teacher, reading aloud was always my favorite part of my day. Whether I was reading a favorite novel or beloved picture book, I always marveled at the connections that we were able to make as a class through reading.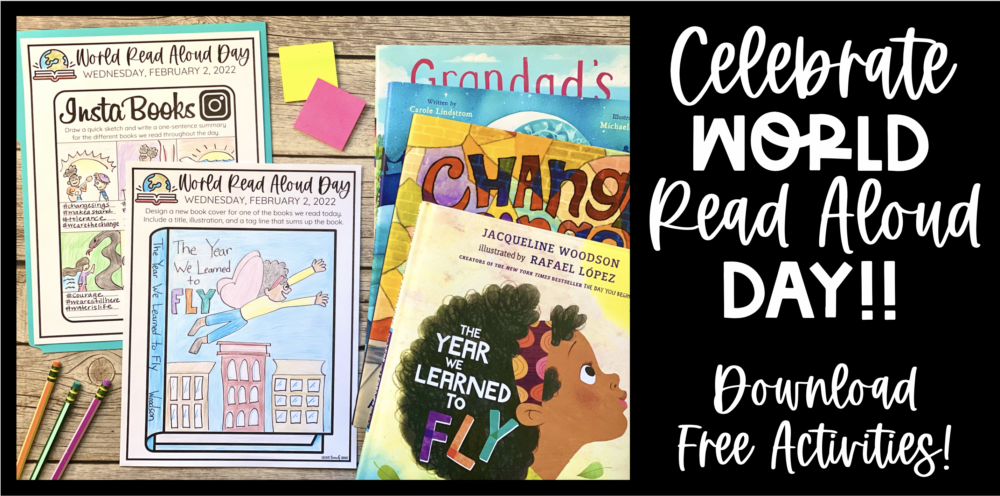 This post contains affiliate links to amazon.com. If you make a purchase from amazon.com through the links on this page, CreateTeachShare will receive a small commission. This helps to support the blog, and allows me to continue creating and sharing educational content with my readers.
I hope that you will join the millions of readers worldwide who will be participating in World Read Aloud Day. I thought that I would use this opportunity to share some ideas, activities, and books to help you celebrate.
Ways to Celebrate
Choose several picture books read aloud throughout the day.
Ask students to bring in their favorite picture books. Give students time throughout the day to share their books in pairs or small groups.
Invite guest readers to come read aloud to your class. You could ask your principal, parents and other family members, and members of the community. (Due to Covid, you might have to ask guest readers to read online through Zoom or Skype for this year.)
Read aloud the first chapter from a novel that your students might enjoy.
Encourage students to write their own stories to read aloud with their classmates.
Virtual Read-Alouds: LitWorld shares a variety of Virtual Read-Alouds from different authors and celebrities.
Discuss the value and importance of reading and literacy, and the purpose of World Read Aloud Day. You can even have students create posters to help promote this day throughout your school and community.
Organize a class or school-wide book drive and find local organizations where you can donate the books.
Encourage students to go home and read aloud to a friend or family member.
You can find even more activities and resources from LitWorld by clicking HERE!
Picture Book Suggestions
Here are some of my most recent picture book favorites. All of these are great to read aloud with any grade level!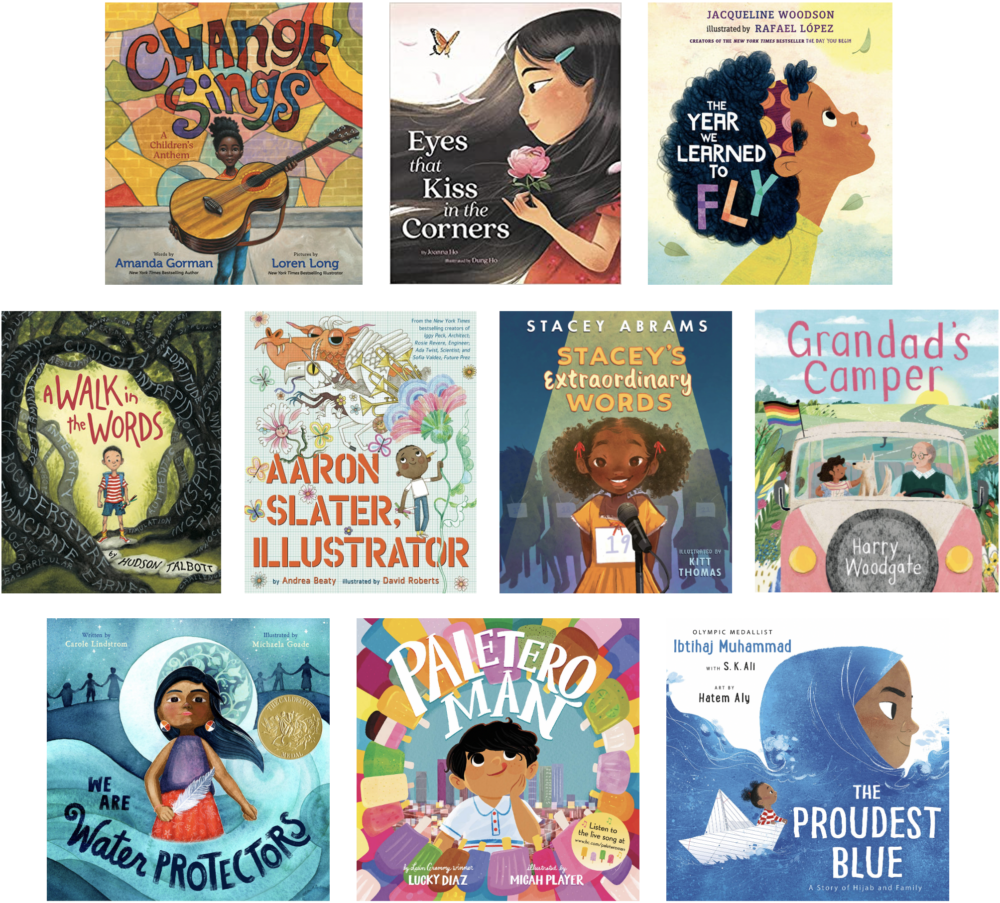 You can find even more book suggestions from LitWorld by clicking HERE.
Free Activities
While students are being read aloud to throughout World Read Aloud Day, be sure to give them some time be creative and to reflect on the stories being shared. I created the following activities to use for this purpose:
Design a Cover: Have students design a new cover for one of the stories that is read aloud.
InstaBooks: Have students draw a quick sketch and write a one-sentence summary for some of different books that are read throughout the day. You could also have students use hashtags to represent different themes from the book.
Bookmarks: Students can use this bookmark to write a list of their top 5 favorite books.
Click HERE to download all of these activities! (These activities have been updated for 2023!)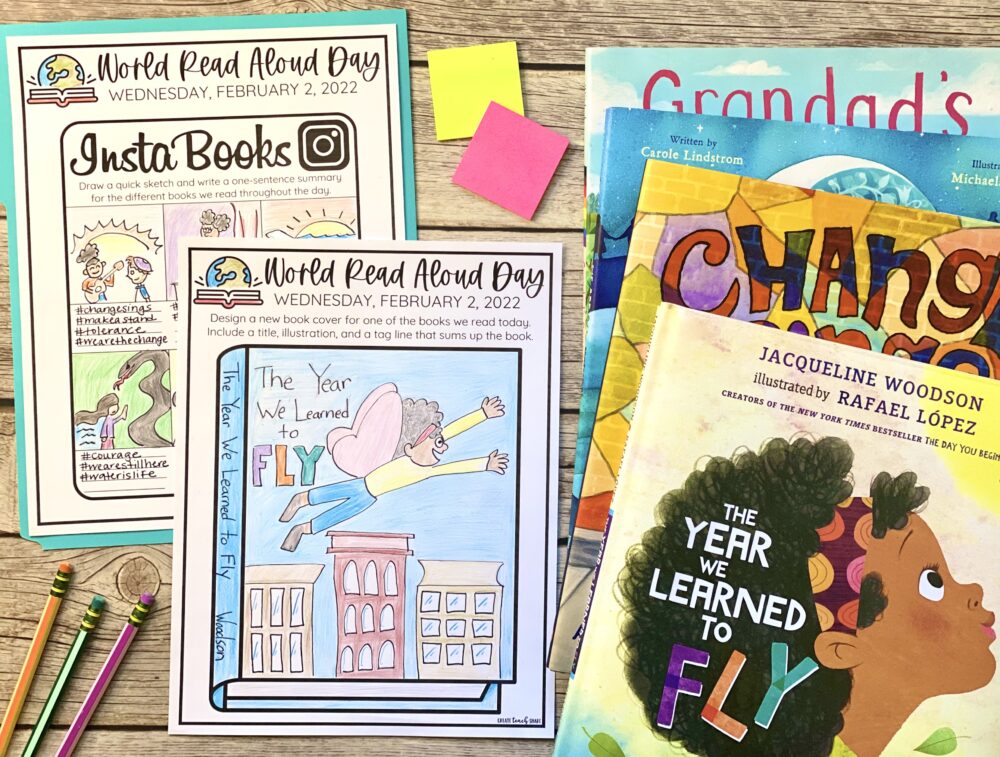 I am also sharing a Google Slide that you can use to share an agenda for the day. See a sample slide below.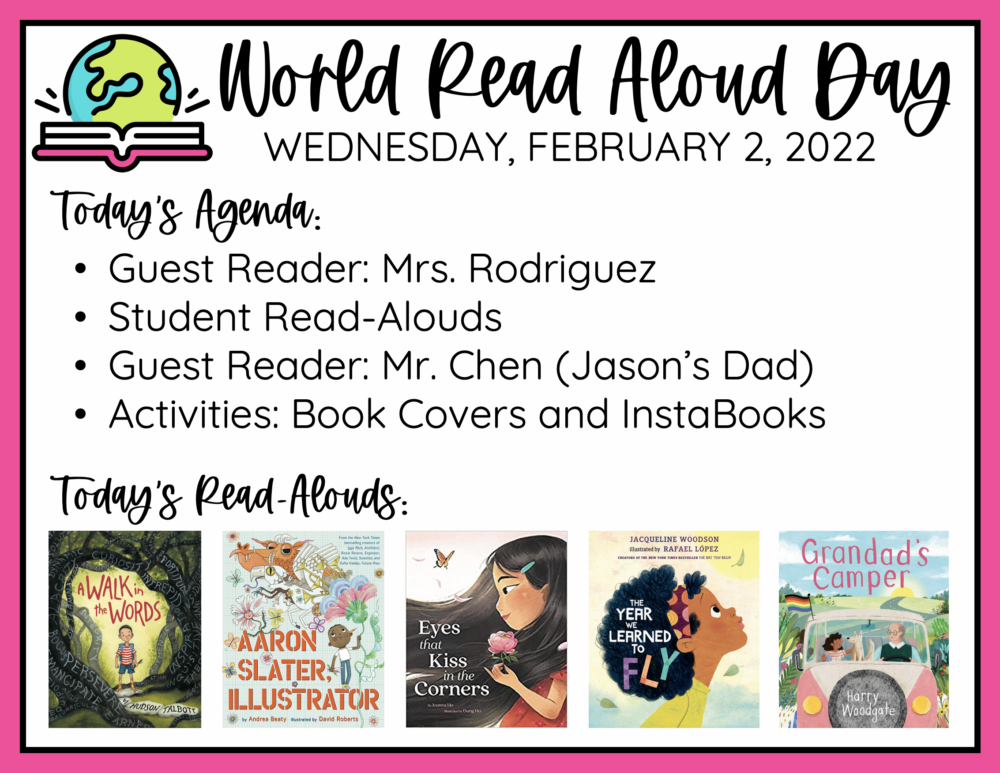 Digital Interactive Read Aloud
My Interactive Read-Aloud is also a great activity to use with any read-aloud! Use it for World Read Aloud Day, or anytime you read a picture book with your students. Use this digital resource to customize your reading lessons, by choosing from different strategies and skills. Add your own questions or prompts, and choose from a variety of genre and theme icons to guide student discussions. Finish your lesson with a thumbs up/thumbs down rating. Click HERE to take a closer look.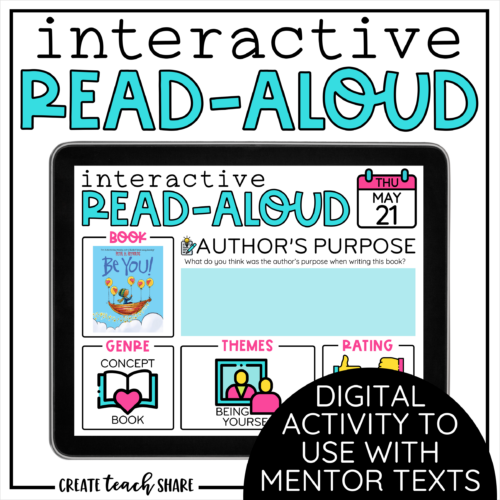 I hope some of these ideas will be helpful to you in your classroom. Be sure to spread the word about World Read Aloud Day, so that even more students can benefit from celebrating this exciting day!